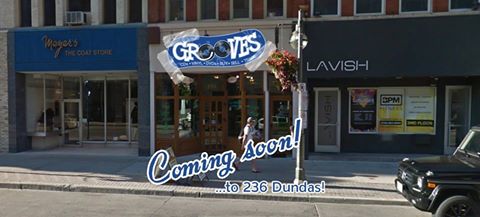 Grooves is moving!
As of October 1st, our new location will be 236 Dundas Street!
Sale
Moving Weekend Sale! Sept 24th and 25th.
Buy 3 items, get a 4th item free (lowest price item) $1 bin records are 10 for $1 $1 bin CDs are 4 for $1 25% off all used books and used CDs!
Live Music Sunday September 25th 3pm
Power Buddies (psychedlic garage punk rock from Edmonton)
We buy, sell and trade!
Bring us your used CDs and records to trade in for credit for new stuff, or swap your hot wax for cold cash!
Current location until September 25th:
353 Clarence St.
London, Ontario CA
N6A 3M4
Store Hours
Monday-Saturday: 10am - 8pm
Sundays: 11 - 6pm
Closed Monday September 25 - Friday 30th
Re-opening at 236 Dundas Street on October 1st
Phone: (519)640-6714
Email: grooves@loveable.com
Grooves Gift Certificates are available in any amount!